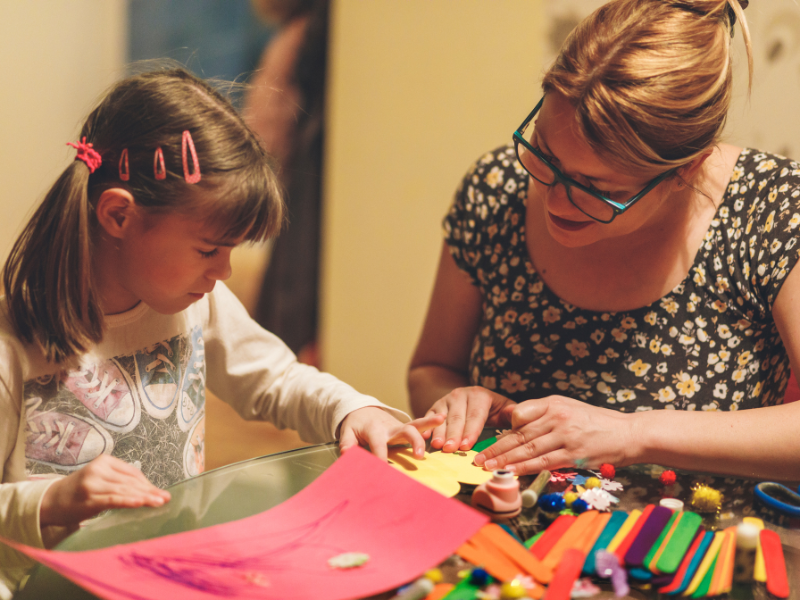 "The wise woman builds her house,
but with her own hands the foolish one tears hers down" (Proverbs 14:1, NIV).
Just as God has made you His workmanship (Ephesians 2:10), you also have a special "craft project" going on in your home. You guessed it! Your children! A wise woman builds her house, carefully crafting her children into works of art that will bring glory to God.
So how do you go about building your house (especially your children) wisely?
1. The foundation is the fear of YHVH.
"The fear of YHVH is the beginning of wisdom: a good understanding have all they that do his commandments: his praise endures for ever" (Psalm 111:10, KJV).
If you want to teach your children, making them a special workmanship for God, then you have to start with yourself. Do you fear YHVH?
Fearing YHVH is equivalent to "doing his commandments."
"We know that we have come to know him if we obey his commands. The man who says, 'I know him,' but does not do what he commands is a liar, and the truth is not in him. But if anyone obeys his word, God's love is truly made complete in him. This is how we know we are in him: Whoever claims to live in him must walk as Yeshua did" (1 John 2:3-6, NIV).
Your children are watching to see how well their parents obey God's Word.
Are you meditating on God's Word day and night (Psalm 1:2)?
How's your marriage? Are you submitting to your husband "in everything" (Ephesians 5:24)? Do you show respect to your husband in front of your children (Ephesians 5:33)?
Are there other commands that God has revealed to you but which you are hesitant to obey? Does your heart say, "That command doesn't apply to me," making excuses for your disobedience? Do you apply situation ethics to your own life?
I urge you to check your own life for the fear of YHVH, being sure that as you begin teaching your children, you first have God's commands on your own heart (Deuteronomy 6:4-9).
2. Correct foolish behavior in your children.
Just as a carpenter carefully whittles away the rough edges of wood, and just as a potter adjusts the clay until the shape is perfect, so must parents search for foolishness in the heart of their child and get it out.
"The fear of YHVH is the beginning of knowledge: but fools despise wisdom and instruction" (Proverbs 1:7, NIV).
The Bible very clearly defines foolishness: "The fool says in his heart, 'There is no God'" (Psalm 53:1, NIV). But what does foolish behavior look like in a small (or not-so-small) child?
A foolish heart is characterized by disobedience. This is why it's so important for you to check your own heart for foolish disobedience first, as you are the example in your home! (See Psalm 119:9-11.) Then you must require obedience of your children. (A good rule of thumb is "obey right away, first time I ask, with a good attitude.")
A foolish heart will not accept instruction. For young children, you must teach them to listen, to pay attention, and to accept your teaching with a correct attitude. (See Psalm 119:58-60, noting the correct responses your children should have to your instruction.)
A foolish heart will not acknowledge any authority but itself. Everything he does is "right in his own eyes" (Proverbs 12:15). This is why God defines a fool as someone who says in his heart, "There is no God." A child acts as if "there is no parent" or "there are no rules" or "no one can tell me what to do." It is best summed up in the actions of Israel, when "there was no king in Israel, but every man did that which was right in his own eyes" (Judges 17:6, KJV). Take careful note of heart attitudes, not just outward actions.
God says that "foolishness is bound in the heart of a child; but the rod of correction shall drive it far from him" (Proverbs 22:15, KJV). The word child here means anything from infancy to adolescence. We need to carefully watch for foolish behavior, then we need to correct it!
The description of a rod in this verse, of course, means a literal rod, but it brings with it a much more broad meaning of correction done in love, for the good of the child. The rod of correction should never be used in anger or frustration ("the fool leading the fool"). God says that "the sweetness of the lips increases learning" (Proverbs 16:21, KJV). A rod is a necessary tool, but we sometimes-emotional mothers would do well to remember that "man's anger does not bring about the righteous life that God desires" (James 1:20, NIV).
3. Replace foolishness with a good understanding of God.
"The fear of YHVH is the beginning of wisdom: and the knowledge of the holy is understanding" (Proverbs 9:10, KJV).
The Word of God must be your main textbook. Start very young! Note how old Timothy was when his mother and grandmother began to train him:
"…and how from infancy you have known the holy Scriptures…" (2 Tim. 3:15, NIV).
Note also the curriculum and its outcome:
"…the holy Scriptures, which are able to make you wise for salvation through faith in Messiah Yeshua. All Scripture is God-breathed and is useful for teaching, rebuking, correcting and training in righteousness, so that the man of God may be thoroughly equipped for every good work" (2 Tim. 3:15-17, NIV).
Yeshua said that God's laws, which we must teach our children, are summed up in two things:
"Love YHVH your God with all your heart and with all your soul and with all your mind. This is the first and greatest commandment.  And the second is like it: Love your neighbor as yourself. All the Law and the Prophets hang on these two commandments" (Matthew 22:37-40, NIV).
So everything we should teach our children falls into one of two categories:
Love YHVH. What does this look like? To love YHVH means to acknowledge His wisdom, guidance, and sovereignty, so that we trust Him. As a result of our trust, we walk in faith and obedience. Our attitude becomes thankfulness and prayer (1 Thessalonians 5:16-18). We do not allow complaining or arguing in our homes (Philippians 2:14), for Israel was severely punished for these sins! They indicate that we think we are wiser, and they show we don't trust His ways.
Love others. Something that is seriously lacking in our society is a care and concern for the welfare of others over ourselves. Begin at a very young age to teach your children to consider the feelings of others. Yes, it is normal for a child to run, play, and be loud. Teach your child when play is appropriate—and when play can cause distress to others. What about sharing possessions? Taking care of chores? Learning to interact with siblings and friends? Learning not to interrupt when others are speaking? Aren't we to do all of these things for others? "Do nothing out of selfish ambition or vain conceit, but in humility consider others better than yourselves. Each of you should look not only to your own interests, but also to the interests of others.  Your attitude should be the same as that of Messiah Yeshua" (Philippians 2:3-5, NIV). It will take hard work and consistent effort for you as a mother to instill love for others in your children, but it should be one of your primary goals.
Now, while your children are young, be building up your house with wisdom, based on the fear of YHVH. By the teen years, your children's "workmanship" will be tested (see specifically how in Luke 6:45). Be very careful, in the early years, to root out foolishness, so that your young adults can pass the test.
May your workmanship be of the highest quality!