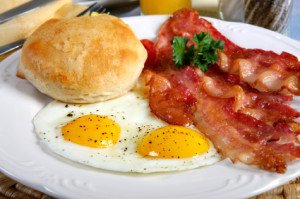 A reader at my Anne's Health Place website sent me an excellent comment last week:
While I enjoy your writing, I have to say I am shocked to hear that you are encouraging your readers to abstain from some foods on the basis of the Levitical law. Besides Peter's experience in Acts 10 that teaches us that all animals are now "clean" and may be eaten freely with thanksgiving, if you are going to be consistent, you have to embrace all of the requirements of the Law. Why stop at unclean animals? Will you also refrain from wearing clothing made out of a blend of fibers or certain haircuts or hundreds of other requirements that the Law placed on the Jews (which they couldn't keep either–hence the need for and joy in the news of the coming Savior!)? It's one thing to say, "I feel pork or some seafood is not a good choice for me so I will abstain and I think you should, too." It is quite another to cite the Bible as your grounds for the abstinence. It is absolutely fine, from a moral and nutritional standpoint, to eat animals formally considered "unclean." You may have very valid reasons to encourage others to refuse to eat them, but "because God says so" cannot be one of them.
This is an excellent comment because it shows this reader is paying attention and is comparing what I say to Scripture. I'm so pleased about that!
Here are her questions, as I see them:
What about Peter's experience in Acts 10 that teaches us that all animals are now "clean" and may be eaten freely with thanksgiving?
Acts 10 doesn't teach that God has called all the animals "clean." In fact, Peter never did eat any of them! God was using the unclean animals as an object lesson to Peter, that he shouldn't call any people, for whom Christ had died, "unclean." As Peter says,
Then Peter began to speak: "I now realize how true it is that God does not show favoritism but accepts from every nation the one who fears him and does what is right. You know the message God sent to the people of Israel, announcing the good news of peace through Jesus Christ, who is Lord of all… All the prophets testify about him that everyone who believes in him receives forgiveness of sins through his name." (Acts 10:35-36, 43, emphasis added).
Peter was "shocked" at what God was asking him to do, and for good reason! How could God, who cannot change, ask Peter to sin? That's why Peter needed to have the sheet lowered three times before he finally understood what God was telling him. You'll note, though, that after God had shown him the sheet three times, "immediately the sheet was taken back to heaven" (verse 16). Peter never did eat anything unclean.
Rather, Peter wondered at the meaning of the vision and was still wondering when he got the knock on his door and met  Cornelius' men. Then the Spirit explained to him the meaning of the vision and told him, "Do not hesitate to go with them, for I have sent them" (verses 17-20).
This whole story reminds me of another time that it appeared like God was asking someone to sin. Remember the story of Abraham, when God asked him to sacrifice his only son Isaac? If we apply the same logic to Abraham that we often do to Acts 10, then we would conclude that human sacrifice is now okay. No, God's laws never change, but sometimes He uses a little "shock factor" to get us to think and apply it to another area of our lives.
If you were going to be consistent, wouldn't you have to embrace all of the requirements of the Law?
Yes, absolutely! If I were to be consistent, this is exactly what I've been trying to say!
"All Scripture is God-breathed and is useful for teaching, rebuking, correcting and training in righteousness, so that the servant of God may be thoroughly equipped for every good work" (2 Timothy 3:16-17).
(What is the only "Scripture" that these first believers had access to? Only the Old Testament.)
What is the definition of "sin"?
"Everyone who sins breaks the law; in fact, sin is lawlessness. But you know that he appeared so that he might take away our sins. And in him is no sin" (1 John 3:4-5).
John continues that those of us that have had our sin taken away by Jesus will not continue to sin. (Keep in mind what the definition of sin is: "sin is lawlessness.")
"No one who lives in him keeps on sinning. No one who continues to sin has either seen him or known him. Dear children, do not let anyone lead you astray. The one who does what is right is righteous, just as he is righteous. The one who does what is sinful is of the devil, because the devil has been sinning from the beginning. The reason the Son of God appeared was to destroy the devil's work. No one who is born of God will continue to sin, because God's seed remains in them; they cannot go on sinning, because they have been born of God" (1 John 3:4-9).
John isn't saying that I will never sin, but that I won't sin willfully, knowingly, or as the Psalmist put it, "presumptuously." I won't take advantage of the grace of God by continuing to do what I know displeases Him.
"What shall we say, then? Shall we go on sinning so that grace may increase? By no means! We are those who have died to sin; how can we live in it any longer?" (Romans 6:1-2).
How do I know what displeases Him? I don't have to guess. As Paul said in 2 Timothy 3:16-17, "all Scripture" is given so that we'll be "thoroughly equipped for every good work." The Law defines sin, shows us of our need of a Savior and to repent, then instructs us in righteousness.
"All the requirements of the Law"? 🙂 I'm sure your head is spinning, and this blog post is getting too long already, so this is probably a discussion to be continued another day. But may I remind you that I didn't say, "All the requirements of Judaism" or "oral tradition" or "a long list of do's and don't's" by this church or that. I said, "All Scripture." God warns us not to add to or take away from His Word. In my own life, God has simply convicted me to open my Bible, begin reading (all of it, starting in Genesis), and simply do what He says, one thing at a time, as I read it.
The Law placed hundreds of other requirements on the Jews, which they couldn't keep either, hence the need for and joy in the news of the coming Savior. What about this?

"Now what I am commanding you today is not too difficult for you or beyond your reach. It is not up in heaven, so that you have to ask, 'Who will ascend into heaven to get it and proclaim it to us so we may obey it?' Nor is it beyond the sea, so that you have to ask, 'Who will cross the sea to get it and proclaim it to us so we may obey it?' The word is very near you; it is in your mouth and in your heart so you may obey it.  See, I set before you today life and prosperity, death and destruction. For I command you today to love the LORD your God, to walk in obedience to him, and to keep his commands, decrees and laws…" (Deuteronomy 30:11, 14, 16).
Paul quotes from this passage in Romans 10:6-8, as he makes a case in that chapter for the spiritual needs of his dear people Israel. He says that they "did not know the righteousness that comes from God and sought to establish their own" (verse 3). He also states that in reality, as God looked deeper than their outward actions into their hearts, He saw "a disobedient and obstinate people" (verse 21).
In fact, all through the book of Romans, Paul makes a deliberate case that we are all disobedient and sinful.
"There is no one righteous, not even one;
there is no one who understands;
there is no one who seeks God" (Romans 3:10-11).
All Scripture points to God's righteousness, our own sinfulness, and God's merciful and loving provision of a Savior through Jesus Christ. As Paul says,
"Christ is the culmination of the law so that there may be righteousness for everyone who believes" (Romans 10:4, NIV).
The word translated "culmination" here has the meaning of "end" or "goal." Everything in Scripture points to Jesus. He is the the bull's eye of all the law.
But as we saw from the verses above, the word "culmination" does not mean "end" as in "ceases to exist." It couldn't, because it would contradict what Jesus said about God's commands:
"Do not think that I have come to abolish the Law or the Prophets; I have not come to abolish them but to fulfill them. For truly I tell you, until heaven and earth disappear, not the smallest letter, not the least stroke of a pen, will by any means disappear from the Law until everything is accomplished. Therefore anyone who sets aside one of the least of these commands and teaches others accordingly will be called least in the kingdom of heaven, but whoever practices and teaches these commands will be called great in the kingdom of heaven" (Matthew 5:17-19).
Since there are many things in the law and prophets that have not yet been accomplished, I need to take Jesus' words seriously.
"Because God says so" — in  other words, to cite the Bible — cannot be one of your grounds for abstinence from pork.
I think this would be a good spot for a little personal testimony. Over three years ago, I first heard a friend "talking crazy" about God's Law, much as I have today in this post. I was horrified, and I spent many months searching my Bible in an effort to refute her. Instead, God opened my eyes to many things that His Word says, things I had never seen before.
One of the most convicting verses I read, and one you'll see that I quote often on this blog, was
"For we are God's handiwork, created in Christ Jesus to do good works, which God prepared in advance for us to do" (Ephesians 2:10).
The question that raged through my mind, haunting me even in the middle of the night, was, "What are these good works which God prepared in advance for me to do?" Whose list should I follow? What verses should I consult? Only the New Testament? Only parts of the New Testament? How do I know which parts are for me and which parts are not? Should I follow the ten commandments? Only nine of them? Eight of them? Which verses are the "moral" law, and which ones are the "ceremonial" or "civil"? What about passages where all the laws seem jumbled up together? etc.
Yet God's Word also says,
"Grace and peace be yours in abundance through the knowledge of God and of Jesus our Lord. His divine power has given us everything we need for a godly life through our knowledge of him who called us by his own glory and goodness. Through these he has given us his very great and precious promises, so that through them you may participate in the divine nature, having escaped the corruption in the world caused by evil desires" (2 Peter 1:2-4).
My knowledge of God will give grace and peace to my life. His divine power, revealed to me through His Word, will give me "everything I need" for a godly life. In my own life, my conclusion has been that I want to get to know Him better, to learn more about this God who called me "by his own glory and goodness."
So yes, I feel that citing God's Word is the very best thing I can do. If God's Word provides "everything I need" for life, then His Word is the first (and often, the only) place I should turn for answers — in everything! On my health website, "everything" means that if I had no other reason for not eating pork, "because God said so" is the only reason I need. On this blog, submission to my husband or headcovering or any other difficult topic only needs "because God said so" as my grounds for obedience.
---
I didn't take the time today to answer all this reader's questions in great detail, but if someone wants to continue the discussion in the comments, feel free! This is a huge topic, and I'm aware it has many implications for our lives, but BOOKS have been written on this subject! I doubt that this one little blog post did much justice to it. 🙂


P.S. Please be patient with me as I reply to this discussion. These kinds of questions and answers take a lot of time, something I don't have much of. If it takes me days — or even weeks, sometimes — to formulate an answer, please forgive me in advance.