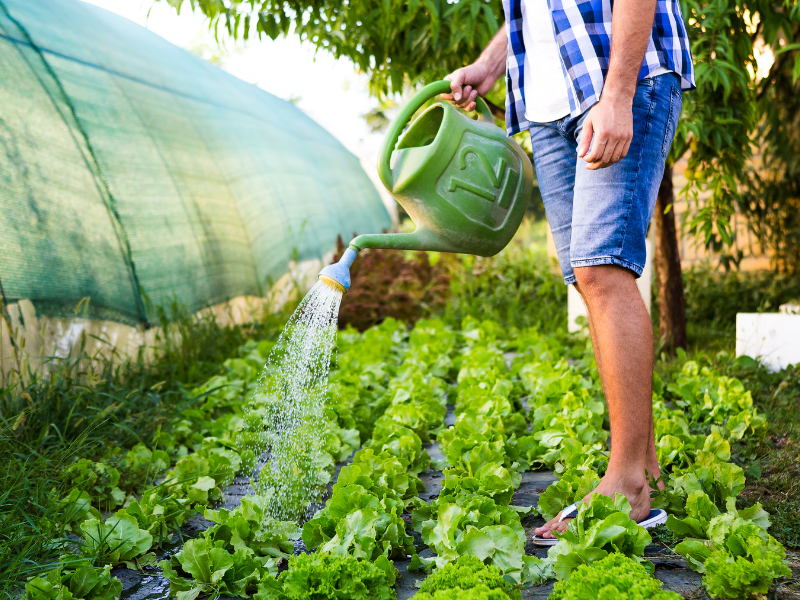 For weeks, we have been preparing for the 2023 Homeschool Family Conference. We chose our theme, "Plants Grown Up," last fall when we started planning this year's garden. We couldn't help but see the similarities between gardening and homeschooling.
Kraig has worked really hard on our garden this year, but it has had its difficulties. Some men from our congregation graciously came and helped him erect a greenhouse last fall, which was an amazing blessing. Then Kraig retrofitted a trailer so he could drive to get loads of compost and wood chips from nearby farms. Sadly, on his first trip, the weight of the dirt bent the axle on the trailer. So it was back to the drawing board!
He is really good at shopping for deals on Facebook Marketplace, so we were pretty excited when he found a new trailer at a good price. It had a strong bed and axle, but it didn't have sides. So the next step was to build sides on the trailer. Now he was set to get loads of compost and wood chips again!
He does all these kinds of tasks around his work for Homeschooling Torah and Solel, our local Sabbath fellowship, where he is the teaching elder.
He is almost always working on graphic design jobs for Homeschooling Torah. I appreciate his skill, because I don't have these abilities. Being creative isn't easy, nor is it fast. I'll look at a "simple" piece of artwork he has made, and it overwhelms me to realize he has spent 20 hours or more on it.
He wakes up every morning and studies his Bible and prays, with a cup of hot coffee in his hands. After his own study, he works on writing new curriculum (based on the Bible), or working on an upcoming Sabbath teaching.
He teaches a men's Bible study every 2 weeks to help train up new leaders in our congregation. This takes many hours of reading, research, and Bible study, too.
The phone rings most days with men calling for counsel and advice, or to talk about Bible prophecy, or to ask his thoughts on an issue they are facing in their lives. What does the Bible say about the calendar, about divorce, about the Greek word in that passage of Scripture? He spends many hours researching the answers and writing email replies.
Then it's back out to the garden. Maybe it's time to build a hugelkultur bed, dragging logs over to the garden area, filling the area around with dirt and wood chips, adding compost from last year and some coffee grounds he brings home by the bag from a local coffee shop.
He notices that the Japanese Knotweed, an extremely invasive plant, is encroaching on his new garden beds. The roots are like tree roots, thick and woody. He hacks down the plants and digs out roots, only to realize they have spread 20 feet under the garden and are sending up shoots throughout the new bed he worked to build last week. The sun is hot, and he is drenched in sweat. Our daughter runs to get him a drink.
This is gardening. This is what we were thinking about when we chose "Plants Grown Up" for our conference theme this year.
No parent has only "homeschooling" on his or her to-do list. All of our lives are filled with people to help, meals to cook, errands to run, things that go wrong, illness, storms, and broken things. Meanwhile, our children keep growing. We have to get the weeds out of their lives and shelter them from the blistering sun, even though we are busy and tired and overwhelmed.
Why do we keep going? Why do we spend so much time and money on the garden… on friends with needs… on our own children's education?
Because of the harvest! The fruit is better. The seeds will now bring more harvests for years to come. The taste is sweet.
We want to see our sons grown up as plants. We want to see our children like trees, surrounding us and our culture, strongly planted by the rivers of water, meditating daily on His Torah. Their roots need to go deep, deeper than the invasive lies of the Evil One.
If truth is going to continue, it will only be through our children and grandchildren. This is urgent. There is nothing more important.
So even though we all get tired and face difficulties, we invest our lives for those who come behind us.