I'm digging deep into the archives this week, to repost this Bible study from early spring 2004…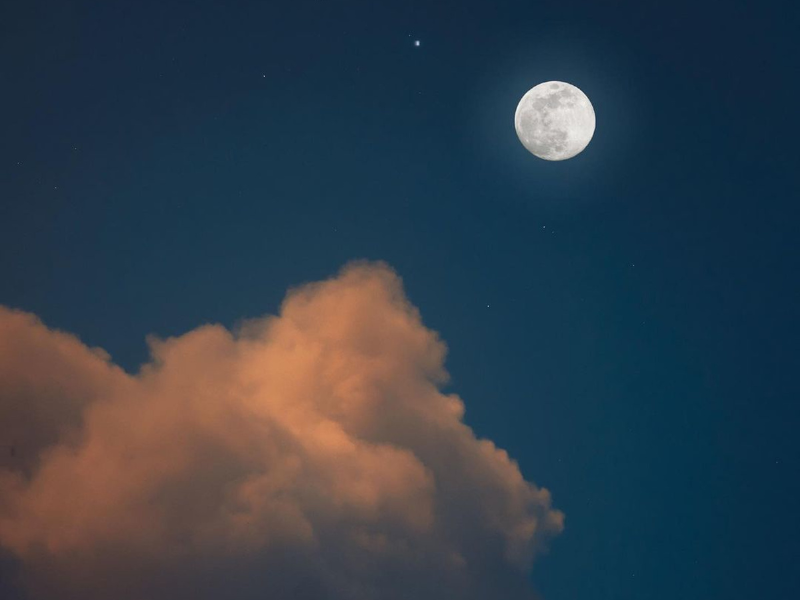 When I consider Your heavens, the work of Your fingers,
The moon and the stars, which You have ordained,
What is man that You are mindful of him,
And the son of man that You visit him? (Psalm 8:3-4)
Do you remember what we talked about before, how one night I sat under the stars with my husband and it helped put all of life back into perspective? Today I want to talk about three things that utterly amaze me when I begin to consider God's creation.
1. That He Created Me
"When I consider Your heavens," the Psalmist wrote, "What is man?" When we begin to learn about God's creative majesty, we start to feel small! Educator Charlotte Mason wrote that teachers should take their students out into nature every day so that they can study God's creation and develop an appreciation of all He has done for us.
Indeed, as I sit here at my desk and look out at the blue sky, I see puffy clouds floating by. Because I've been up in an airplane, I know the massive size of those clouds. My school days taught me about the water cycle and how God miraculously preserves water for us to drink and for green things to grow. And yet, in all His creative wonder, He allows our children to imagine bunny rabbits and choo-choo trains and frogs when they lie on their backs and look at the clouds.
Beyond those clouds are stars. The sun is bright, so I can't see them, yet I know they are there. Not only are they there, and in an infinite number, but my God knows each one's name and all about its composition. My son likes to dream of space travel, yet I'm forever amazed that even if we had the capabilities to travel to other galaxies, there would be yet more galaxies beyond to explore! Only the Creator knows the end to the wonder of our universe.
And then there is that moon, so bright sometimes that it also blocks our view of the stars. Three of my four children were born on a full-moon, and I remember being in labor yet looking at the bright moon in the sky and being comforted that the same God who crafted it would "never leave me nor forsake me."
So I have to wonder why God created me? Surely there are more interesting things in this world! The universe is so large that we can feel insignificant, yet the vastness of God's majesty is an ever-present reminder of just how much He loves us!
2. That He Thinks of Me
Like the Psalmist, I have to wonder, "What is man that You are mindful of him?" In fact, it is beyond my comprehension that God even CAN be mindful of me. How can He hold all the world in space, keep all the atoms and molecules perfectly aligned, and still have time left over to think about me? It makes my trivial worries seem even more trivial.
Yet my worries are not trivial to God. In fact, Job said, "What is man, that You should exalt him, that You should set Your heart on him?" (Job 7:17). He has set His heart upon me, and He loves me. David prayed, "Such knowledge is too wonderful for me; it is high, I cannot attain it" (Psalm 139:6).
3. That He Visited Me
John 3:16-17, so familiar to all of us, says, "For God so loved the world that He gave His only begotten Son, that whoever believes in Him should not perish but have everlasting life. For God did not send His Son into the world to condemn the world, but that the world through Him might be saved." The highest expression of God's love for me was that He came to redeem me.
Therefore justice is far from us,
Nor does righteousness overtake us;
We look for light, but there is darkness!
For brightness, but we walk in blackness!
We grope for the wall like the blind,
And we grope as if we had no eyes;
We stumble at noonday as at twilight;
We are as dead men in desolate places.
We all growl like bears,
And moan sadly like doves;
We look for justice, but there is none;
For salvation, but it is far from us.

For our transgressions are multiplied before You,
And our sins testify against us;
For our transgressions are with us,
And as for our iniquities, we know them:
In transgressing and lying against YHVH,
And departing from our God,
Speaking oppression and revolt,
Conceiving and uttering from the heart words of falsehood.
Justice is turned back,
And righteousness stands afar off;
For truth is fallen in the street,
And equity cannot enter.
So truth fails,
And he who departs from evil makes himself a prey.

Then YHVH saw it, and it displeased Him
That there was no justice.
He saw that there was no man,
And wondered that there was no intercessor;
Therefore His own arm brought salvation [Yeshua] for Him;
And His own righteousness, it sustained Him.
For He put on righteousness as a breastplate,
And a helmet of salvation on His head. (Isaiah 59:9-17)
Paul wrote that Yeshua, "being in the form of God, did not consider it robbery to be equal with God, but made Himself of no reputation, taking the form of a bondservant, and coming in the likeness of men. And being found in appearance as a man, He humbled Himself and became obedient to the point of death, even the death of the cross" (Philippians 2:6-8).
Why did my Sovereign God stoop down to humble himself and take on the likeness of a man, to die for me and bring me salvation? Why was "His sacred head" wounded?
Was it because I am so wonderful? No, it was because God's love is so wonderful.
In fact, songwriter Isaac Watts wrote this:
Alas! and did my Savior bleed
And did my Sovereign die?
Would He devote that sacred head
For such a worm as I?
Thy body slain, sweet Jesus, Thine—
And bathed in its own blood—
While the firm mark of wrath divine,
His Soul in anguish stood.
Was it for crimes that I had done
He groaned upon the tree?
Amazing pity! grace unknown!
And love beyond degree!
Well might the sun in darkness hide
And shut his glories in,
When Christ, the mighty Maker died,
For man the creature's sin.
Thus might I hide my blushing face
While His dear cross appears,
Dissolve my heart in thankfulness,
And melt my eyes to tears.
But drops of grief can ne'er repay
The debt of love I owe:
Here, Lord, I give my self away
'Tis all that I can do.
How should we respond to God's "amazing pity, grace unknown, and love beyond degree"?
I believe the first step is to realize how much He loves us and how much we can trust Him. Charles Hadden Spurgeon is famous for saying, "God is too good to be unkind, God is too wise to be mistaken. When you cannot trace His hand, you can always trust His heart."
Secondly, as Isaac Watts wrote in the hymn above, we need to dissolve our hearts in thankfulness and melt our eyes to tears. If you have a view of the sky where you live, I would like to recommend that you take a night this week to go outside with your Bible and a flashlight. Gaze at the stars, then read passages like Genesis 1 through 3, followed by the story of Yeshua's crucifixion in John 19 and 20. Then pour out your heart to Him in thankfulness at the great love with which He loves you.
Finally, the obvious conclusion we all must come to is, "Here, Lord, I give my self away; 'Tis all that I can do." We have but one short life in which to bring glory to our God. Who are you sharing the love of Yeshua with today? How are you loving others? Who can see Yeshua in you?

Unless otherwise noted, all Scripture in this blog post taken from the New King James Version®. Copyright © 1982 by Thomas Nelson. Used by permission. All rights reserved.