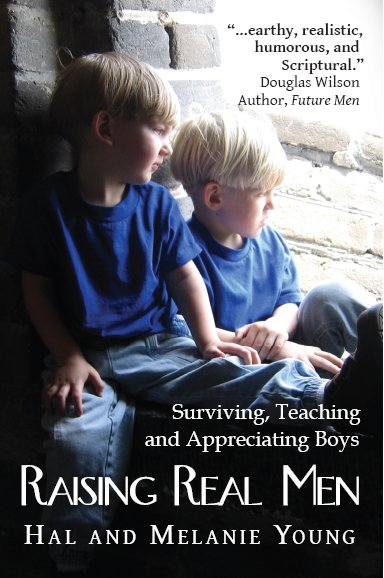 I have a couple hidden privileges as an author, and one of those is the joy of sharing fellowship with some other Christian authors in a Yahoo group online. It's a special bunch of people, and many have acted as mentors to me. One such couple is Hal and Melanie Young. I've "watched" their lovely, Christ-like attitudes over the last years as they've traveled, spoken at countless conferences, and dealt with their customers — all in kind, humble, and biblical ways that I so much want to copy. In addition, Hal has been through some major health problems in the last year, and I've watched his wife Melanie respond to his illness and maintain her sweet faith in God.
But to top it off, they have eight children, six of whom are boys! They're really busy people! They're just top-notch in my book!
Several months ago, Melanie generously offered to give me a copy of their book, Raising Real Men. I had seen it, so I was truly excited to read it. I only have three sons (and four daughters), but I can attest to how different it is to raise a boy compared to a girl.
Raising Real Men is an extremely practical, fully Bible-based book. Hal and Melanie did a good job of mixing Scripture with how-to advice, all while maintaining my interest throughout. (I kept thinking, "Wow, I didn't know other people's boys did that, too!) When I read of very, um, boy-like things their sons did, I felt better! 🙂 But I also appreciate that they tell me what to DO, how to FIX some of these, er, "problems," and best of all, what Scripture verses they base their advice upon.
So I'm excited to announce several things:
I have a copy of Raising Real Men to give away to you! All you have to do is enter by submitting your name below. The giveaway ends at midnight (central time) on December 1, 2010, so if you want to tell your friends on Facebook, do it right away! I'll let my boys randomly choose a winner on Thursday, then I'll announce the winner on Friday and ship out the book to you.
Wait, there's more! 🙂 I'm also including an audio CD called "Hero Tales," full of some great stories you can share with your boys, read by Hal Young. These are especially useful during these winter months, as an alternative when boys are cooped up indoors and start playing swords in your living room.
Finally, I want to point out that Hal and Melanie are running a special Thanksgiving sale over on their website, but this sale ends TONIGHT (Monday, Nov. 29). You really should check it out…
So enter below, spread the word to your friends, and enjoy perusing the Young's website!



P.S. My sincerest apologies to my overseas friends, but this particular giveaway is only for U.S. residents. I'll do my best to include a giveaway for the rest of you soon!!!!