by Rachel Starr Thomson
Excerpted from Tales of the Heartily Homeschooled by Rachel Starr Thomson and Carolyn Joy Currey
Available from http://www.rachelstarrthomson.com or your favorite online retailer.
Six o'clock a.m. A brilliant light invades the darkness of the basement cave where Becky and I sleep. Dad's voice pipes in: "The sun's up! Time is slipping through our fingers! We have a major project to develop, create, and finish today (I forgot to tell you a month ago when I agreed to do it), and you have to be ready to leave the house in fifteen minutes. Come on, out of bed! Hup, hup, hup!"
Our character is built by the way we react to people and situations. Scripture compares the molding of our souls to the work of a potter with his clay. (Have you ever seen a potter at work? The words mash, mangle, smush, smoosh, manhandle, and knead come to mind. So do the words big family.)
Automatic enrollment in Character School is one of the greatest advantages of life in a big family. I'm going to build character whether I like it or not, or else I'm going to fold up and become a dried, useless lump. So, mash, mangle, and the rest of it aside, I'll choose to learn my lessons.
Even writing an essay like this one can be an exercise in character building. I sit down at my computer, and immediately a million or so people (are we sure there are only twelve kids in my family?) invade my den.
"What are you doing?"
"Rachel, I'm hungry."
"Anna needs a diaper change."
"Now what are you doing?"
"Do you wanna see my scrape?"
"Can I have some chocolate?"
"Can I have an apple?"
"Can I go outside?"
"It's too cold outside. Can I come in?"
"Anna took her pants off and threw them out the window."
"Look at this weird stuff on the chocolate. Is that mold?"
"Are you still working on that project? Why aren't you finished yet?"
"Dad just called. He needs that project like now."
"I ate the chocolate and now I feel sick. I think that was mold."
"There's a turkey vulture flying over the house. Come see."
"It's not a turkey vulture, it's a hawk."
"Is not."
"Is too."
"Is not."
"Is too."
"Jon just fell off the top bunk, and now his head's bleeding and Tirzah's screaming and I still feel sick."
"Hurry up, I need the computer."
"Now are you done?"
"Can you think of a good sentence with the word 'federation' in it?"
"Jimmy says mold is poisonous. Is it poisonous? I feel sick."
"Come look at my room, but first, you need to know it's not my fault."
"Can I go back outside?"
"I want to come in now because I just saw a brontosaurus* by the creek."
"See my ladybug? I'm gonna name him George. I gave him a bath."
"Rach, I really need the computer. What's taking you so long?"
"Is it almost supper time?"
"George is dead."
"What are you doing?"
You can see that there is much potential for reactionary behavior here. Will I run off, screaming something incoherent about not being able to work when I'm being asked to grieve for a ladybug? Will I nail my little brother with a graceless comment about dinosaurs being extinct, for heaven's sake, and would you kindly stop bothering me about them? Or will I react in love and patience, remembering that the Christ who lives in me put up with people every second of His life here―that He loved them, even? Even when they asked ridiculous questions, which they did with alarming frequency, He loved them.
(Really, it's very good of God to give us people. He loves them and He loves to bless us with them. The truth is, once I calm down, I even love the ridiculous questions. They keep me laughing for years. Stressful days may be the ultimate in character-building, but they've got their blessings.)
Character school continues late at night when Deborah bounces off the ceiling with a "Sproing!" of night-personness. By this time, the little ones are in bed, and the older ones get up a friendly wrestling-kicking-screeching match, in which the only illegal move is tickling and the law is frequently broken. Mom and I are usually trying to drink tea in the midst of this, but it's hard to keep tea in your cup and off your clothes when you find yourself in the middle of a hurricane with legs.
What with meals, chores, emergency projects, dinosaurs and turkey vultures in the yard, morning people and night people, life in my house is a training course par excellence. I should be a saint in no time.
* For all you academic purists out there, I realize there is no way that my brother could have seen a brontosaurus by the creek. I calmly explained this to him. There was never any such thing as a brontosaurus. The skeleton given that name turned out to be a conglomeration of two other dinosaur species. I suspect the archaeologist responsible for the mix-up was trying to ward off a zillion questions while inserting Leg A into Socket B.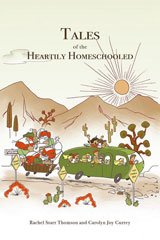 Author Bio
Rachel Starr Thomson is a freelance writer, editor, and writing coach. A grateful homeschool graduate, she lives at home with her parents and eleven younger siblings. Rachel writes regularly for Focus On the Family's Boundless.org and magazines like Homeschooling Today. Tales of the Heartily Homeschooled is her fourth book. Her other published works include the young adult fantasy novels Worlds Unseen and Burning Light, Books 1 and 2 in the Seventh World Trilogy. Book 3, The Advent, is currently being written. You can keep up with Rachel and her writing at www.rachelstarrthomson.com/inklings/, or find her on Facebook or Twitter.