I'm sending out a quick update, because I figured this information would be really useful to you.
I have started several new video series on YouTube, and I wanted to be sure you knew about them.
Hebrew School
As I've been working on our new Word Power curriculum at Foundations Press and Homeschooling Torah, I knew that I wanted to teach Hebrew right alongside English grammar and vocabulary. However, it started to dawn on me that I needed a way to teach Hebrew to absolute beginners, or the Word Power lessons weren't going to make any sense!
I tried writing out the Hebrew explanations — but it's so hard to explain a different language with written words!
So I decided to start teaching short, very basic Hebrew classes on YouTube. We will cover all of the same information that is in our Word Power series, but you don't need any book or special resources to get started. Just hit play!
I will plan to post new Hebrew videos twice a week, on Mondays and Fridays, so be sure to subscribe.
Visit Hebrew School on YouTube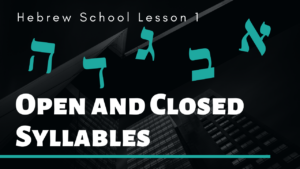 Pregnancy, Childbirth, & Parenting Classes
I am strongly convinced of something when it comes to parenting: "It is better to prevent problems than fix them."
As a blogger, author, and curriculum developer, I love to help women build strong marriages and families. However, sometimes I feel like I'm just playing catch up. By the time parents purchase our curriculum for their kindergartner, third grader, sixth grader, or even high-school student, many marriage and parenting issues are firmly entrenched — and families don't know where to start to fix things!
For this reason, I am beginning a new video series on YouTube, where we are going to start at the absolute beginning and find out what the Bible says. In fact, we're going to start before a woman gets pregnant, then continue on through pregnancy, childbirth, and the early days of parenting — all the way through, as children grow up, as Yah gives us the strength and ability to keep this series going.
As always, we are going to use the Bible as our primary textbook.
I will plan to post new parenting videos once a week, on Wednesdays, so be sure to subscribe..
Visit Parenting Videos on YouTube