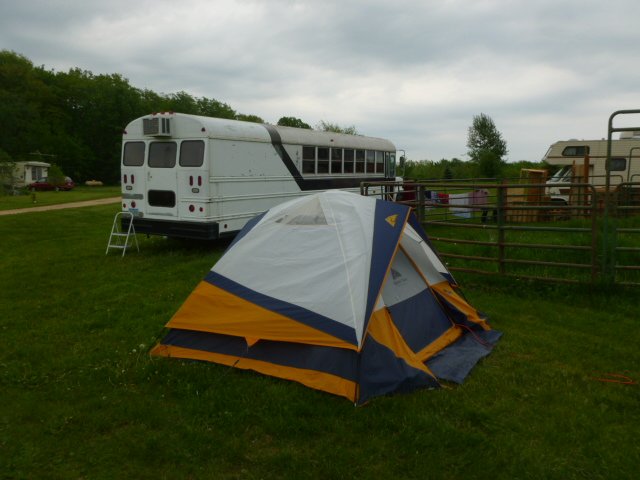 Yes, once again I've been very quiet on my blog. My desire is to again write new Bible studies each week, so I hope you'll be seeing another post from me soon.
In the meantime, I thought you might like to hear what our family has been up to and why we've been so busy.
We heard about "tiny houses" several years ago, and since then we've been intrigued by the idea of simplifying our lives, living with fewer possessions, and being free to travel (or not) as YHWH directed.
When Kraig resigned from the pastorate in early 2013, we prayed about moving into an RV or tiny house then, but YHWH shut the door firmly. He planted us instead in Spring Valley, Wisconsin, where we've enjoyed the blessing of a beautiful 2400-square-foot rental home nestled in a wooded valley that feels like it's in the middle of nowhere but is a short drive from the Twin Cities. It's been a year filled with transitions, new occupations, and many opportunities to trust YHWH — so this quiet retreat was probably exactly what we needed!
However, since the beginning of 2014 we've felt as if YHWH was changing our course. We just didn't know how! We prayed about many possibilities and sought advice from close friends. If He would have told us at the beginning that this was how He was leading, we would surely have been terrified! Thankfully, He leads slowly, one day at a time, gently guiding and directing.
When He planted the idea that maybe now was the time to leave our home and start living on the road full time, He quickly answered specific prayers and provided confirmation in numerous ways. The final piece, after we had announced our intentions to indeed move out of our home, was when we found out that our landlord intended to list our home for sale. We indeed must move!
In May, we purchased an old school bus, a used 15-passenger van, and a 25-foot travel trailer from the early 1980s. All three need to be fixed up before we'll be able to live in them, but eventually these will sleep our entire family.
We then started to pack up all our things, selling most of it. By the end of May, we had moved out of our house to a farm nearby. Our friends offered to allow us to camp near their barn, where we have access to water and electricity. We have a big tent as our "master bedroom," our girls are sleeping in a borrowed RV, and the boys sleep up in the empty bus at night. We have a canopy tent for our kitchen and a shower tent for our bathroom.
In the daytime, I work online, continuing to write curriculum for HomeschoolingTorah and Foundations Press. Kraig and the kids work on remodeling the bus. We plan to stay here for a few more weeks, until we get the bus livable, even if not fully completed. We then plan to drive to Michigan to stay a few months with some families who are wanting to get established in Torah. We also hope to spend some time with grandparents before eventually heading to the southern states for the winter.
Our desire is to be somewhat flexible, so that if YHWH brings a need into our lives, we can be free to pick up and go to help meet that need. However, during the first several months, our desire is to visit family that is spread across this country, whom we haven't seen in many years, before our children grow up any more! As we travel, we hope to visit Messianic congregations on Sabbaths to encourage them, visit friends we've only "met" online, and be a help in any way we can.
We started a new blog to tell about our travel adventures, share pictures, and explain how to renovate a school bus for others who are interested. You can subscribe to our blog updates to hear about our travels as we go. If you'd like for us to visit you as we go through your state, contact us and we'll pray about it.