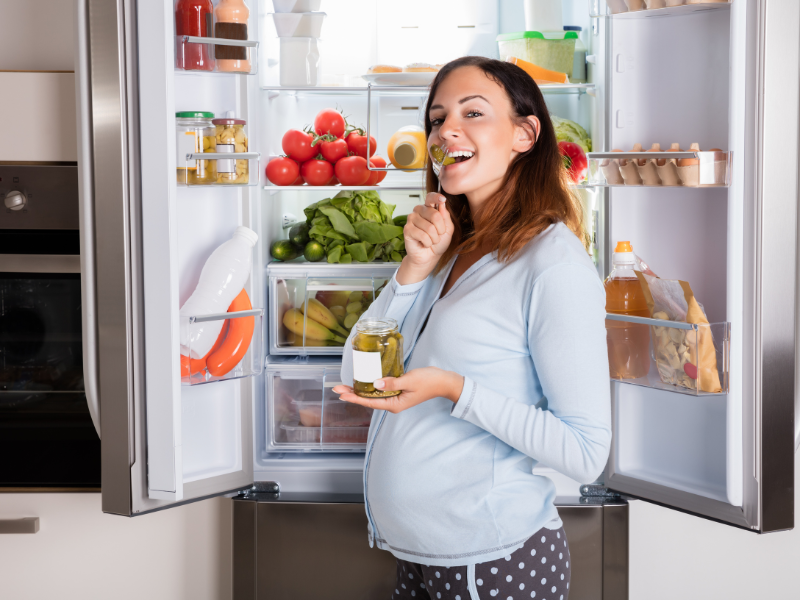 I wrote this Bible study six years ago, when I was pregnant with my fifth baby. So, no, I'm not pregnant now. Just clarifying… 🙂
I've been feeling so much better lately.  I'm now 21 weeks along in this pregnancy, and it appears that I've even gotten my appetite back!  It's a good thing… my doctor has asked me to be sure I eat at least 100 grams of protein a day.  When she told me that last week, I about fell over.  But we came home and began trying to come up with creative ways to stuff food into my queasy tummy.
I did great on my "diet" over the weekend, when my husband was home, but Monday came and I didn't do so well.  I just didn't feel like bothering.  It felt like too much trouble to hunt for food in the fridge.  By evening, I had run out of gas.  I dragged myself over to the computer, wondering what in the world I would make for supper.  I went to a nice Christian recipe site, and can you believe what verse was posted right over the recipes?
"Laziness casts one into a deep sleep, and an idle person will suffer hunger" (Proverbs 19:15).
Ouch!  How dare the Bible call me lazy?!  After all, I'm pregnant!  Don't I deserve to be a little lazy and idle sometimes?
But I decided to give the verse a try.  I typed it into my word processor, put a nice apple border around it, then printed it to hang on my wall by my computer.  In fact, I'm staring at it right now.  All day Tuesday it stared right back at me, telling me to get off my chair and fix myself a nutritious snack, as the doctor had advised.  By evening, I was still feeling energetic.  It was a miracle! 🙂  And it worked equally well yesterday, too.
This is yet another example of the simple blessings that fill our lives when we look into God's Word and decide to obey.  Our verses for today's Bible study talk about this very concept:
I sought YHVH, and He heard me,
And delivered me from all my fears.
They looked to Him and were radiant,
And their faces were not ashamed.
This poor man cried out, and YHVH heard him,
And saved him out of all his troubles.
The angel of YHVH encamps all around those who fear Him,
And delivers them (Psalm 34:4-7).
What happens when I seek YHVH?
He hears me.
He delivers me from all my fears.
He gives me radiance.
I am not ashamed.
He saves me out of all my troubles.
He encamps all around me and delivers me.
What blessing!
But this all hinges on me.  I must SEEK YHVH.  I must LOOK to Him.  I must CRY OUT.  I must FEAR Him.
When casually reading these verses, my first inclination would be to think that I'm being told to pray.  Isn't prayer simply seeking God's face, crying out to Him, and looking to Him for deliverance?
Thankfully, in God's providence, I've been reading my daily-two chapters in the Bible from Ezra and Nehemiah.  I've been blessed to read how these two Godly men returned to Jerusalem from the land of captivity, and how they led the entire city in a revival.  How did this revival happen?  It always began when the people gathered together and dusted off their old copies of the Torah of Moses.  Over several days, they would read it, discuss it, teach it to each other, and apply it to their lives.  As they would realize all the areas in which they had failed to obey God, they would begin to weep and cry!  Idols would be smashed.  The Temple would be swept clean.  Foreign wives, married in disobedience, would be sent home.  So reading God's Word always led to confession of sin and a renewal of their commitment to follow God wholeheartedly.  These times of tears would invariably be followed by days of singing and feasting and music and joy.
"They looked to Him and were radiant,
And their faces were not ashamed."
So I have to ask myself again, "How do I seek YHVH?"
It begins when I dust off my Bible and begin to faithfully and fervently read.
It begins when I'm reading urgently, out of a sincere desire to draw close to God, not out of a boring obligation or duty.
It begins when I learn to fear YHVH and the consequences of disobedience.
It begins when I humbly cry out to God to forgive me for the times I've willfully and knowingly disobeyed Him.
It begins when I clean out the sinful areas of my life and right the wrongs.
It results in a renewed joy and radiance.  I get a song in my heart!  I love to mingle with God's people again.
And this is when God fulfills His Word.  He hears me.  He delivers me from all my fears.  He gives me radiance.  I am not ashamed.  He saves me out of all my troubles.  He encamps all around me and delivers me.  What blessing!
Are you seeking YHVH today?

Unless otherwise noted, all Scripture in this blog post taken from the New King James Version®. Copyright © 1982 by Thomas Nelson. Used by permission. All rights reserved.