I keep my sermon notes in file folders, one folder for each book of the Bible, and in the folder for Psalms, I found notes on Psalm 1, preached by my pastor about six years ago. In this sermon, he told stories of courageous men who did NOT stand in the way of sinners.  He encouraged us to find books about these people and read more about them.  Here are some of them:
Moses (Hebrews 11:24-26)
Daniel & his three Hebrew friends (Daniel 3)
John Huss (who lived in the 1500s)
The Waldensians
These faithful men refused to follow the way of the crowd and chose instead to obey God, no matter what the consequences would be!
This week we're going to look at how to become strong, courageous believers, like these men.  First, let's look at the first three verses of Psalm 1:
Blessed is the man
Who walks not in the counsel of the ungodly,
Nor stands in the path of sinners,
Nor sits in the seat of the scornful;
But his delight is in the Torah of YHVH,
And in His Torah he meditates day and night.
He shall be like a tree
Planted by the rivers of water,
That brings forth its fruit in its season,
Whose leaf also shall not wither;
And whatever he does shall prosper (Psalm 1:1-3, NKJV).
I have had the privilege of living in 22 different places in my life, from Pennsylvania where I was born, to Michigan, to southwest Florida, to the mountains of Arizona, and to the Midwest.  I've also had a chance to look at many trees during my life!
In Michigan, we lived in a tiny town nestled among farms, and our home had a gorgeous maple tree in the front yard.  I was just a kid, so I loved to climb that maple.  From my limb up high, I could see so far!  The boughs were big and sturdy, and I was never afraid I might fall.  Then there were the leaves—waxy and green in the summer and bright red and crackly in the fall.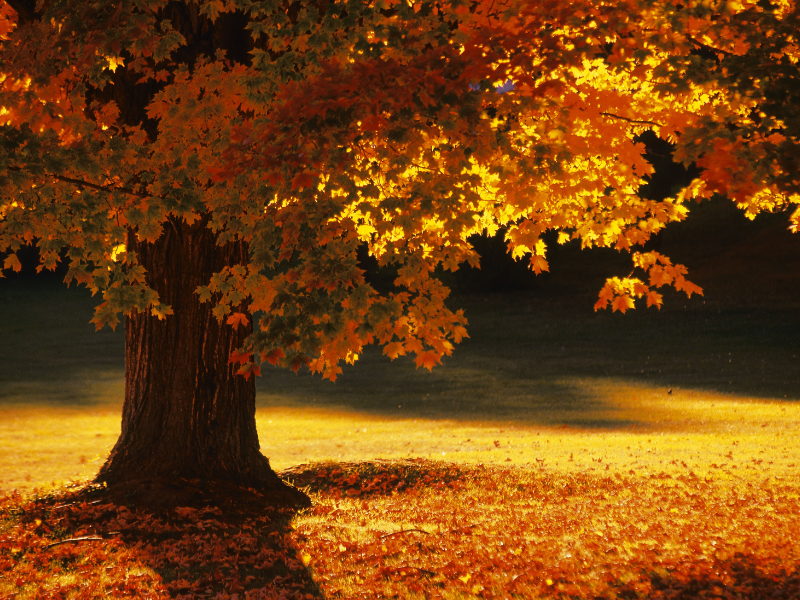 We moved to Florida when I was 12, and I was enamored with palm trees.  We had some newly planted palmettos in our yard when we moved there, and those baby trees (already as tall as I was) had to be watered often.  My dad shaped a trough in the dirt around the trunks so that the water would stay by the roots and not soak down into the soft Florida sand.  About 7 years later, my husband and I happened to move into that same house soon after we were married—and by then the trees had grown quite tall!
Later in dry Arizona, a "national forest" might consist of thousands of stubby little trees that you can see right over the top of!  Instead of having one thick and sturdy trunk, these trees have trunks that are only inches around.  The trunk of the tree outside my window branched off into many different boughs only a couple feet off the ground.  Each bough branched again and again and again, until it looked like a big, round ball of sticks!  My kids would loved to have climbed this tree, but the limbs weren't strong enough to hold them.
I recently found out about the roots of trees (although I'm no tree expert).  Did you know that tree roots underground look very much like the branches above ground, only bigger?  It amazes me that the roots of a 60-foot-tall maple might extend 100 feet down into the ground.  Can you imagine how deep a palm tree's roots might extend?
However, my poor pinon pines had roots that extended wide and stayed close to the surface in their desperate search for water.  This is why during one of our many dust storms, we saw tumbleweed roll down our street.  The high desert plants do not have the necessary, deep root structure to help them withstand the inevitable storms of life.
God says we're just like trees.  We can often deceive people, making them think we are more spiritual or "with it" than we really are.  We can have shallow roots, preferring to spend more time working on our outward appearance than on the hidden things of our hearts.
But the blessed man has deep roots.  Notice four things about this man:
1)  He is planted by rivers of water. What is the source of our nourishment?  We found out last week that it is the Torah of YHVH (see Psalm 1:2), and that we can only be fed as we meditate on it day and night. Like a tree, whose roots are "eating" even when we can't see it happening, God wants us to take time out for Him, consistently, daily. We won't get any recognition for these quiet moments of devotion, but in time, we will be as strong as a maple tree.
2)  He brings forth fruit in the right season. Often we'll see people who appear to be doing a lot for God, but after awhile, they "fade away"—and you'll never hear from them again.  A sturdy fruit tree may be several years old before it brings forth a good harvest, and the same is true for us.  The Bible says,
"Do not be deceived, God is not mocked; for whatever a man sows, that he will also reap.  For he who sows to his flesh will of the flesh reap corruption, but he who sows to the Spirit will of the Spirit reap everlasting life.  And let us not grow weary while doing good, for in due season we shall reap if we do not lose heart" (Galatians 6:7-9, NKJV).
3)  His leaf doesn't wither. Life inevitably brings hard times.  I've heard it said that your true character is shown by how you are in the hard times, not the easy times.  You will have money problems.  Someone you love will get sick and die.  You will be hurt in a relationship.  The true test of your character is how well you withstand the storms.  If you wait until the hard times to get into the Word to study, it will be too late.  Your root structure must already be in place well before you need it, and this can only happen by consistent, daily study of the Bible.
4)  Whatever he does prospers. May I quote some special verses?
"Blessed is every one who fears YHVH,
Who walks in His ways.
When you eat the labor of your hands,
You shall be happy, and it shall be well with you.
Your wife shall be like a fruitful vine
In the very heart of your house,
Your children like olive plants
All around your table.
Behold, thus shall the man be blessed
Who fears YHVH" (Psalm 128:1-4, NKJV).
"YHVH was with Joseph, and he was a successful man; and he was in the house of his master the Egyptian. And his master saw that YHVH was with him and that YHVH made all he did to prosper in his hand. So Joseph found favor in his sight, and served him. Then he made him overseer of his house, and all that he had he put under his authority" (Genesis 39:2-4, NKJV).
"Meditate on these things; give yourself entirely to them, that your progress may be evident to all" (1 Timothy 4:15, NKJV).
Have a great week, everyone!



P.S.  Have you had your devotions today????