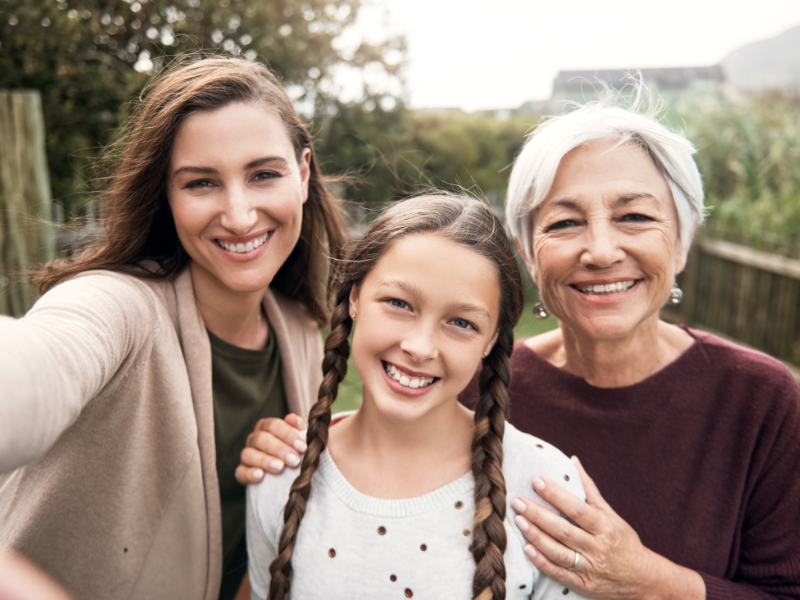 I've been pondering what I should write about next on my blog, and it seems like the Spirit was whispering that Titus 2:3-5 is the passage that applies to women. Since I'm teaching women here, I thought I better look it up.
I was arguing with Him a little, though. "Titus 2 again? That's what all the women bloggers are writing about. I have nothing unique to write about it. It's been way overdone!"
But on the other hand, these verses do say that this is what "older women" are to teach to the "younger women." (Not that I'm old or anything…)
"Likewise, teach the older women to be reverent in the way they live, not to be slanderers or addicted to much wine, but to teach what is good. Then they can train the younger women to love their husbands and children, to be self-controlled and pure, to be busy at home, to be kind, and to be subject to their husbands, so that no one will malign the word of God" (Titus 2:3-5).
So let's just supposed that I'm older than some of you… I'm supposed to "teach what is good."
Why Teach What Is Good?
Stepping back from the famous words written to women in the middle of this book, I took a peek at the entire book of Titus. Wow, it seems that Paul was pretty obsessed with teaching all of the believers in Crete how to do what was good.
"The reason I left you in Crete was that you might straighten out what was left unfinished…" (Titus 1:5).

"For there are many rebellious people…" (Titus 2:10).

"Even one of their own prophets has said, 'Cretans are always liars, evil brutes, lazy gluttons.' This testimony is true. Therefore, rebuke them sharply…" (Titus 1:12-13).
In fact, I think the very first verse of Titus tells us the theme of the entire book:
"Paul, a servant of God and an apostle of Yeshua Messiah for the faith of God's elect and the knowledge of the truth that leads to godliness…" (Titus 1:1).
The first three verses (Titus 1:1-3) briefly remind us that our "faith and knowledge" rest on our hope of eternal life. We are saved by "faith" and "knowledge."
Do you remember what Paul said to the Ephesians?
"For it is by grace you have been saved, through faith—and this not from yourselves, it is the gift of God— not by works, so that no one can boast" (Ephesians 2:8-9).
But Paul didn't stop there. Salvation is just the beginning. God saves us for a reason:
"For we are God's workmanship, created in Messiah Yeshua to do good works, which God prepared in advance for us to do" (Ephesians 2:10).
And our theme verse of Titus echoes this same thought:
"Paul, a servant of God and an apostle of Yeshua Messiah for the faith of God's elect and the knowledge of the truth that leads to godliness…" (Titus 1:1).
Faith and knowledge lead somewhere. They aren't the end; rather, they're the beginning. They lead to godliness.
Why did Paul want the older women to teach what was good? Because faith and knowledge lead to godliness — but it doesn't come naturally. Yes, the desire to do right comes when the Spirit of God breathes new life into us. However, we need the Word of God taught to us by godly women who show their faith by their actions.
How to Teach What Is Good
Let's see if my theory is correct, that the book of Titus was written so that Titus would know how to teach the Cretons that faith and knowledge lead to godliness, or a changed life.
(1) By living it, not just talking about it.

Paul calls Titus a "true son," and he asks him to appoint elders in every town. He gives a very long list of character qualities to look for in elders (Titus 1:5-9). Then he compares these godly elders to "mere talkers."
Check out the character of these "talkers":
"For there are many rebellious people, mere talkers and deceivers, especially those of the circumcision group. They must be silenced, because they are ruining whole households by teaching things they ought not to teach—and that for the sake of dishonest gain. Even one of their own prophets has said, "Cretans are always liars, evil brutes, lazy gluttons." This testimony is true. Therefore, rebuke them sharply, so that they will be sound in the faith and will pay no attention to Jewish myths or to the commands of those who reject the truth. To the pure, all things are pure, but to those who are corrupted and do not believe, nothing is pure. In fact, both their minds and consciences are corrupted. They claim to know God, but by their actions they deny him. They are detestable, disobedient and unfit for doing anything good" (Titus 1:10-16).
You'll note that these people loved to talk about God, to teach others, to pass along myths, and to even make up their own commands. They were Jews, so they used their heritage to give credence to their words, but they were rejecting the truth of the Scriptures and making up their own list of rules and commands. Of course, everyone could see they didn't actually obey God's commands. Instead, they were liars, evil, and lazy.
(2) By teaching what matches sound doctrine.

"You must teach what is in accord with sound doctrine" (Titus 2:1).
My husband pointed out recently that "doctrine" is just a fancy way of saying "teaching." So we're to teach what matches "sound teaching."
What is sound teaching? Paul answered that in his letter to Timothy, when he wrote,
"In fact, everyone who wants to live a godly life in Messiah Yeshua will be persecuted, while evil men and impostors will go from bad to worse, deceiving and being deceived. But as for you, continue in what you have learned and have become convinced of, because you know those from whom you learned it, and how from infancy you have known the holy Scriptures, which are able to make you wise for salvation through faith in Messiah Yeshua. All Scripture is God-breathed and is useful for teaching, rebuking, correcting and training in righteousness, so that the man of God may be thoroughly equipped for every good work" (2 Timothy 3:12-17).
Of course, we all know what "Scriptures" these verses refer to, since most of the New Testament hadn't been written at this point. Timothy had been taught (by his mother and grandmother, 2 Timothy 1:5) the Old Testament "Scriptures" from the time he was a very young boy. But just to be sure, we see that Yeshua referred to these "Scriptures" also (John 5:39-40), because they testified that He was the life-giving Messiah.
(3) By starting with grace.
"For the grace of God that brings salvation has appeared to all men.It teaches us to say 'No' to ungodliness and worldly passions, and to live self-controlled, upright and godly lives in this present age,while we wait for the blessed hope—the glorious appearing of our great God and Savior, Yeshua Messiah, who gave himself for us to redeem us from all wickedness and to purify for himself a people that are his very own, eager to do what is good" (Titus 2:11-14).
Here it is again. Grace is where we start, but it teaches us to live "godly lives."
God redeems us from wickedness, to purify us and make us His people. He wants us to be "his very own" — people who are "eager to do what is good."
Wait! Hold the train! What does He redeem us from?
Wickedness.
This word in Greek is anomos. A is a prefix meaning "no." Nomos is the Greek word for law. So a-nomos mean "no law."
He is redeeming us from wickedness, or living with "no law." Literally, this is saying, "That He might redeem us from all lawlessness."
"…for you are a people holy to the LORD your God. Out of all the peoples on the face of the earth, the LORD has chosen you to be his treasured possession" (Deuteronomy 14:2).

"But you are a chosen people, a royal priesthood, a holy nation, a people belonging to God, that you may declare the praises of him who called you out of darkness into his wonderful light" (1 Peter 2:9).
(4) By devoting ourselves to doing what is good.
"At one time we too were foolish, disobedient, deceived and enslaved by all kinds of passions and pleasures. We lived in malice and envy, being hated and hating one another" (Titus 3:3).
Yes, "at one time," this is what we were all like. But should we stay that way? Of course not.
"But when the kindness and love of God our Savior appeared, he saved us, not because of righteous things we had done, but because of his mercy. He saved us through the washing of rebirth and renewal by the Holy Spirit,whom he poured out on us generously through Yeshua Messiah our Savior,so that, having been justified by his grace, we might become heirs having the hope of eternal life. This is a trustworthy saying" (Titus 3:4-8).
No, we aren't saved because of our righteous deeds. I suppose if we were really righteous, every moment of every day of our lives, we wouldn't need a Savior. But we aren't righteous, so we need His mercy. We need to be washed and renewed by the Spirit of God. "This is a trustworthy saying." We must never forget the grace and mercy "poured out on us generously."
And Paul wanted Titus "to stress these things." We're to meditate — a lot — on what our Savior has done for us!
But why are we to stress these things? Is it because now we're under grace, so we don't have to do anything righteous? Is it because, as one popular Christian author wrote, I have my way of living out my Christian life, and you have your way of living it out, and we need to be careful not to impose our own way on anyone else? We are just to do whatever God "lays on our hearts"? Whatever is "right in our own eyes"? (See Deuteronomy 12:8, Judges 17:6, and Proverbs 12:15).
Nope, that's not what Paul says:
"And I want you to stress these things, so that those who have trusted in God may be careful to devote themselves to doing what is good. These things are excellent and profitable for everyone" (Titus 3:3-8).
He says it again just a few verses later:
"Our people must learn to devote themselves to doing what is good, in order that they may provide for daily necessities and not live unproductive lives" (Titus 3:14).
And we've already seen that "all Scripture" is provided for our training in righteousness, so that we will be equipped for every good work.
In between these two verses, he warns us to "avoid foolish controversies and genealogies and arguments and quarrels about the law" (Titus 3:9). He doesn't tell us to avoid the law. We're supposed to avoid arguing with each other about the law.
That's what happens when all we do is talk about living a godly life, rather than just live a godly life.
He wants us to hunker down and "provide for daily necessities," to take care of our husbands and children and homes, and to be filled with godly character and love toward others. These things are "productive." They don't tear our homes and others down.
So I've been making a case that the Scriptures — yes, even the Old Testament — are provided to help us know where to go after we've been saved by grace. They help us go from faith and knowledge, leading us to godliness. Next week we'll look much closer at Titus 2:4-5, at the specific actions we are to take, to show that the Word of God is true in our lives.