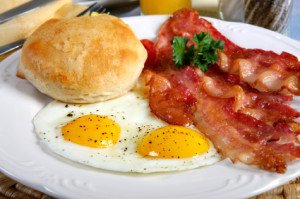 A friend recently asked, "Is it a sin to eat bacon?"
A debate raged in my mind. She knew that our family didn't eat pork, and I knew she didn't agree, but neither was she trying to be rude. She was asking what I honestly thought.
On the other hand, her relatives worked for a major pork processing plant here in southern Minnesota, and I knew that if her family changed their opinion of eating pork, there would be major financial ramifications.
Was it really such a big deal if she ate a little bacon? Was it worth a big fight?
And then my conscience added, "Does it really matter, Anne, what you think? Don't you think you should tell her what God thinks?"
Let's Define Sin
Calling bacon a "sin" is strong words, don't you think? So let's define sin.
Sin has a lot of definitions, and most people have a vague idea of what sin is. Sin is stealing. Sin is adultery. Unless you think that married guy is cute, and you decide to steal him away from his wife. Then it's not sin. It's love. 😉
I think most of my readers would agree that sin in determined by God, not by mankind. That's what makes Him God. The basic idea is that He is in charge of the universe He has created, and He has given laws (rules, commands, statutes, dos and don'ts) to people to put boundaries on their conduct. He gets to do that because He is God. Of course, anything that deviates from His standard in any way is sin. His standard determines what is right, and His standard determines what is wrong. It is an expression of His will, and it's our duty to submit to His will.
"The law determines what we shall love or not love; when our passions and appetites shall be bounded and restrained, and to what extent they may be indulged; what shall be our motives and aims in living; how we shall act toward God and toward people; and whenever, in any of these respects, its requirements are not complied with, there is sin." (from Barnes' Notes on the Bible, 1 John 3:4)
All my life, I've been taught that the Word of God defines sin clearly.
"I have hidden your word in my heart
that I might not sin against you" (Psalm 119:11).
What I wasn't taught was that God's Word defines sin very specifically!
Blessed are they whose ways are blameless,
who walk according to the law of the LORD.
Blessed are they who keep his statutes
and seek him with all their heart.
They do nothing wrong;
they walk in his ways.
You have laid down precepts
that are to be fully obeyed.
Oh, that my ways were steadfast
in obeying your decrees!
Then I would not be put to shame
when I consider all your commands.
I will praise you with an upright heart
as I learn your righteous laws.
I will obey your decrees;
do not utterly forsake me.

How can a young man keep his way pure?
By living according to your word.
I seek you with all my heart;
do not let me stray from your commands.
I have hidden your word in my heart
    that I might not sin against you.
Praise be to you, O LORD;
teach me your decrees.
With my lips I recount
all the laws that come from your mouth.
I rejoice in following your statutes
as one rejoices in great riches.
I meditate on your precepts
and consider your ways.
I delight in your decrees;
I will not neglect your word" (Psalm 119:1-16).
The apostle John wrote,
"Everyone who sins breaks the law; in fact, sin is lawlessness. But you know that he appeared so that he might take away our sins. And in him is no sin. No one who lives in him keeps on sinning. No one who continues to sin has either seen him or known him" (1 John 3:4-6).
So sin is defined as breaking the laws of God.
Is eating bacon a sin? Let's look at the law of God in Leviticus 11:
"Of all the animals that live on land, these are the ones you may eat: You may eat any animal that has a split hoof completely divided and that chews the cud.

"There are some that only chew the cud or only have a split hoof, but you must not eat them. The camel, though it chews the cud, does not have a split hoof; it is ceremonially unclean for you. The coney, though it chews the cud, does not have a split hoof; it is unclean for you. The rabbit, though it chews the cud, does not have a split hoof; it is unclean for you. And the pig, though it has a split hoof completely divided, does not chew the cud; it is unclean for you. You must not eat their meat or touch their carcasses; they are unclean for you (Leviticus 11:2-8).
In Deuteronomy, God contradicts the Food Network and calls bacon "detestable."
"Do not eat any detestable thing. These are the animals you may eat: the ox, the sheep, the goat, the deer, the gazelle, the roe deer, the wild goat, the ibex, the antelope and the mountain sheep. You may eat any animal that has a split hoof divided in two and that chews the cud. However, of those that chew the cud or that have a split hoof completely divided you may not eat the camel, the rabbit or the coney. Although they chew the cud, they do not have a split hoof; they are ceremonially unclean for you. The pig is also unclean; although it has a split hoof, it does not chew the cud. You are not to eat their meat or touch their carcasses" (Deuteronomy 14:3-8).
It seems rather clear that God considers eating pork a sin. He says, "Do not eat it."
If I told my child, "Do not eat that cookie," and she disobeyed me, I would consider it a sin. Even if she said, "But Mom, everyone else is eating cookies, and besides, Mom, you made those cookies," I would still expect her to obey me.
But Everyone Else Is Doing It!
"Do not follow the crowd in doing wrong" (Exodus 23:2).
In God's law, He set up provisions for those who did wrong through ignorance, simply because they didn't know any better.
"When anyone sins unintentionally and does what is forbidden in any of the LORD's commands…" (Leviticus 4:2).
An unintentional sin is still defined as doing "what is forbidden in any of the LORD's commands."
"If a member of the community sins unintentionally and does what is forbidden in any of the LORD's commands, he is guilty. When he is made aware of the sin he committed, he must bring… his offering for the sin he committed…" (Leviticus 4:27).
Sinning requires a sin offering. In fact, for all sin, God's penalty is always death, whether of the offender or of a substitute offered in the sinner's place.
"If a person sins and does what is forbidden in any of the LORD's commands, even though he does not know it, he is guilty and will be held responsible. He is to bring to the priest as a guilt offering a ram from the flock, one without defect and of the proper value. In this way the priest will make atonement for him for the wrong he has committed unintentionally, and he will be forgiven. It is a guilt offering; he has been guilty of wrongdoing against the LORD" (Leviticus 5:17-19).
Sin always has dreadful consequences.
"But if you fail to do [as the LORD has commanded you], you will be sinning against the LORD; and you may be sure that your sin will find you out" (Numbers 32:23).

"Just as you used to offer the parts of your body in slavery to impurity [literally, "uncleanness"] and to ever-increasing wickedness, so now offer them in slavery to righteousness leading to holiness. When you were slaves to sin, you were free from the control of righteousness. What benefit did you reap at that time from the things you are now ashamed of? Those things result in death! But now that you have been set free from sin and have become slaves to God, the benefit you reap leads to holiness, and the result is eternal life. For the wages of sin is death, but the gift of God is eternal life in Christ Jesus our Lord" (Romans 6:19-23).
I am very thankful that God sent His only Son to pay the penalty of death for my sin!
"But he was pierced for our transgressions,
he was crushed for our iniquities;
the punishment that brought us peace was upon him,
and by his wounds we are healed.
We all, like sheep, have gone astray,
each of us has turned to his own way;
and the LORD has laid on him
the iniquity of us all" (Isaiah 53:5-6).
So since our punishment was laid on him, does that mean I'm free to now eat all the bacon I want?
"What shall we say, then? Shall we go on sinning so that grace may increase? By no means! We died to sin; how can we live in it any longer?" (Romans 6:1-2).
Didn't Jesus Declare All Foods Clean?
When I'm pressed to say if I believe eating pork is a sin, many believers will respond with a passage from Mark 7.
"Again Jesus called the crowd to him and said, 'Listen to me, everyone, and understand this. Nothing outside a man can make him "unclean" by going into him. Rather, it is what comes out of a man that makes him "unclean."'

After he had left the crowd and entered the house, his disciples asked him about this parable. 'Are you so dull?' he asked. 'Don't you see that nothing that enters a man from the outside can make him "unclean"? For it doesn't go into his heart but into his stomach, and then out of his body.' (In saying this, Jesus declared all foods 'clean.')" (Mark 7:14-19, NIV).
There are two very quick reasons why Jesus could not have been declaring pork "clean" in this passage.
The context shows He was talking about clean and unclean hands, not clean and unclean foods.


"The Pharisees and some of the teachers of the law who had come from Jerusalem gathered around Jesus and saw some of his disciples eating food with hands that were 'unclean,' that is, unwashed. (The Pharisees and all the Jews do not eat unless they give their hands a ceremonial washing, holding to the tradition of the elders. When they come from the marketplace they do not eat unless they wash. And they observe many other traditions, such as the washing of cups, pitchers and kettles.) So the Pharisees and teachers of the law asked Jesus, 'Why don't your disciples live according to the tradition of the elders instead of eating their food with "unclean" hands?'" (Mark 7:1-5).

I'm sure you were taught, as I was, that we need to look at the entire context of a passage, rather than looking at just one verse in isolation, especially in an important case where we might disobey a law of God if we misunderstand what His Word is saying!

The NIV takes a very daring position in their translation of Mark 7:19 by adding the phrase "In saying this, Jesus declared all foods 'clean.'"If you'd do just a little research, you will see that this phrase is not in the original. For instance, compare it to the following translations:


"Because it entereth not into his heart, but into the belly, and goeth out into the draught, purging all meats?" (KJV)

"because it doth not enter into his heart, but into the belly, and into the drain it doth go out, purifying all the meats." (Young's Literal Translation)

Jesus is stating the obvious here. If we eat with dirty hands, it doesn't defile us because it goes through our digestive system and out again, "in the latrine" as the NASB notes add, purifying all the food that we ate before the dirt can be absorbed into our bodies.

The NASB is honest enough to add italics to its translation, so that we can see which words were added by the translators.

"because it does not go into his heart, but into his stomach, and is eliminated?' (Thus He declared all foods clean.)"
If you'll continue reading Mark 7 in its entire context, you'll understand that Jesus was trying to teach an important lesson to His disciples. However, I want to bring up an even more dangerous view that is implied by those who say that Jesus declared all foods (even pork) "clean" in Mark 7:19.
Think about this. If Jesus changed His Father's command in Leviticus 11 to not eat pork, then was He obedient to His Father?
"I tell you the truth, the Son can do nothing by himself; he can do only what he sees his Father doing, because whatever the Father does the Son also does" (John 5:19).

"When you have lifted up the Son of Man, then you will know that I am the one I claim to be and that I do nothing on my own but speak just what the Father has taught me" (John 8:28).

"I and the Father are one" (John 10:30).

"Do not believe me unless I do what my Father does" (John 10:37).

"For I did not speak of my own accord, but the Father who sent me commanded me what to say and how to say it. I know that his command leads to eternal life. So whatever I say is just what the Father has told me to say." (John 12:49-50).

"Whoever has my commands and obeys them, he is the one who loves me. He who loves me will be loved by my Father, and I too will love him and show myself to him… If anyone loves me, he will obey my teaching. My Father will love him, and we will come to him and make our home with him.He who does not love me will not obey my teaching. These words you hear are not my own; they belong to the Father who sent me" (John 14:21-24).
If Jesus gave permission to His disciples to eat pork, was He teaching them to sin against His Father?
Wouldn't this make Jesus Himself a sinner?
"For we do not have a high priest who is unable to sympathize with our weaknesses, but we have one who has been tempted in every way, just as we are—yet was without sin" (Hebrews 4:15).
And if Jesus was a sinner, how could He be our Messiah? Indeed, observant Jews have noticed this today, and it is one of the primary reasons they cannot accept that Jesus was the Messiah!
"The next day John saw Jesus coming toward him and said, "Look, the Lamb of God, who takes away the sin of the world!" (John 1:29)

"God made him who had no sin to be sin for us, so that in him we might become the righteousness of God" (2 Corinthians 5:21).
On the other hand, the Messiah had to be without sin, or else He could not have taken our place and allowed us to have forgiveness.
"Because he poured out his life unto death,
and was numbered with the transgressors.
For he bore the sin of many,
and made intercession for the transgressors" (Isaiah 53:12).
Thankfully, this is a prophecy that Jesus fulfilled perfectly.
"All the prophets testify about him that everyone who believes in him receives forgiveness of sins through his name" (Acts 10:43).

"Therefore, my brothers, I want you to know that through Jesus the forgiveness of sins is proclaimed to you. Through him everyone who believes is justified from everything you could not be justified from by the law of Moses" (Acts 13:38-39).

"For what I received I passed on to you as of first importance: that Christ died for our sins according to the Scriptures…" (1 Corinthians 15:3).

"In him we have redemption through his blood, the forgiveness of sins, in accordance with the riches of God's grace" (Ephesians 1:7).

"He himself bore our sins in his body on the tree, so that we might die to sins and live for righteousness; by his wounds you have been healed" (1 Peter 2:24).

"Jesus Christ… who loves us and has freed us from our sins by his blood" (Revelation 1:5).
So if we follow a pork-eating, law-breaking Messiah, then are we following a false Messiah?
"Everyone who believes that Jesus is the Christ is born of God, and everyone who loves the father loves his child as well. This is how we know that we love the children of God: by loving God and carrying out his commands. This is love for God: to obey his commands. And his commands are not burdensome, for everyone born of God overcomes the world. This is the victory that has overcome the world, even our faith" (1 John 5:1-4).

"It has given me great joy to find some of your children walking in the truth, just as the Father commanded us. And now, dear lady, I am not writing you a new command but one we have had from the beginning. I ask that we love one another. And this is love: that we walk in obedience to his commands. As you have heard from the beginning, his command is that you walk in love. Many deceivers, who do not acknowledge Jesus Christ as coming in the flesh, have gone out into the world. Any such person is the deceiver and the antichrist. Watch out that you do not lose what you have worked for, but that you may be rewarded fully. Anyone who runs ahead and does not continue in the teaching of Christ does not have God; whoever continues in the teaching has both the Father and the Son. If anyone comes to you and does not bring this teaching, do not take him into your house or welcome him. Anyone who welcomes him shares in his wicked work" (2 John 1:4-11).
A "little" sin is starting to look serious.
But That's Not What I've Been Taught!
Jesus clearly said,
"Do not think that I have come to abolish the Law or the Prophets; I have not come to abolish them but to fulfill them" (Matthew 5:17).
What does it mean that He "fulfilled" the Law and the Prophets? It means that He was the perfect, sinless Son of God which the Law and Prophets predicted! He "fulfilled" every prediction given, walking in complete obedience to His Father's commands, making Him the only one qualified to be our Savior.
And since He "fulfilled" the Law, that means we can eat pork now… right?
No, because Jesus then said,
"I tell you the truth, until heaven and earth disappear, not the smallest letter, not the least stroke of a pen, will by any means disappear from the Law until everything is accomplished.
Okay, fair question: "Has heaven and earth disappeared?" Obviously not. "Has everything in the Law been accomplished? Has every prophecy been fulfilled?"
Well, here's a promise to the nation of Israel that hasn't yet been fulfilled:
"When all these blessings and curses I have set before you come upon you and you take them to heart wherever the LORD your God disperses you among the nations, and when you and your children return to the LORD your God and obey him with all your heart and with all your soul according to everything I command you today, then the LORD your God will restore your fortunes and have compassion on you and gather you again from all the nations where he scattered you. Even if you have been banished to the most distant land under the heavens, from there the LORD your God will gather you and bring you back. He will bring you to the land that belonged to your fathers, and you will take possession of it. He will make you more prosperous and numerous than your fathers" (Deuteronomy 30:1-5).
So knowing that not all of the Law has yet been accomplished or fulfilled, nor has heaven and earth disappeared, notice what Jesus said next:
"Anyone who breaks one of the least of these commandments and teaches others to do the same will be called least in the kingdom of heaven, but whoever practices and teaches these commands will be called great in the kingdom of heaven" (Matthew 5:17-19).
Obviously, someone can be a part of the kingdom of heaven while still breaking one of the "least of these commandments." But would you want that person to be your teacher?
The priests of God were supposed to teach the people about pork.
"Then the LORD said to Aaron, 'You and your sons… must distinguish between the holy and the common, between the unclean and the clean, and you must teach the Israelites all the decrees the LORD has given them through Moses" (Leviticus 10:8-11).
Samuel reminded King Saul that it was his obligation to teach the Israelites.
"As for me, far be it from me that I should sin against the LORD by failing to pray for you. And I will teach you the way that is good and right. But be sure to fear the LORD and serve him faithfully with all your heart; consider what great things he has done for you. Yet if you persist in doing evil, both you and your king will be swept away" (1 Samuel 12:23-25).
The prophet Ezekiel was careful to obey God's commands.
"I have never defiled myself. From my youth until now I have never eaten anything found dead or torn by wild animals. No unclean meat has ever entered my mouth" (Ezekiel 4:14).
However, most of the priests strayed from God's commands.
"Her priests do violence to my law and profane my holy things; they do not distinguish between the holy and the common; they teach that there is no difference between the unclean and the clean; and they shut their eyes to the keeping of my Sabbaths, so that I am profaned among them" (Ezekiel 22:26).
In the coming days, the temple of God in Jerusalem will be rebuilt, and the worship of God will be reestablished. In that time, God says,
"[The priests] are to teach my people the difference between the holy and the common and show them how to distinguish between the unclean and the clean" (Ezekiel 44:23).
And even in "the Church Age," we are to distinguish between the clean and unclean. Peter wrote,
"As obedient children, do not conform to the evil desires you had when you lived in ignorance. But just as he who called you is holy, so be holy in all you do; for it is written: "Be holy, because I am holy'" (1 Peter 1:14-16).
Where is this "written"? If you'll check the footnote of your Bible, you'll see that it's a quote from Leviticus 11, where God says eating bacon is a sin.
"Do not defile yourselves by any of these creatures. Do not make yourselves unclean by means of them or be made unclean by them. I am the LORD your God; consecrate yourselves and be holy, because I am holy. Do not make yourselves unclean by any creature that moves about on the ground. I am the LORD who brought you up out of Egypt to be your God; therefore be holy, because I am holy. These are the regulations concerning animals, birds, every living thing that moves in the water and every creature that moves about on the ground. You must distinguish between the unclean and the clean, between living creatures that may be eaten and those that may not be eaten" (Leviticus 11:43-47).
Just a few sentences later, Peter very clearly makes the statement that these verses apply to us, even in "the Church Age."
"But you are a chosen people, a royal priesthood, a holy nation, a people belonging to God, that you may declare the praises of him who called you out of darkness into his wonderful light" (1 Peter 2:9).
This is a quote from Exodus 19:5-6.
"Now if you obey me fully and keep my covenant, then out of all nations you will be my treasured possession. Although the whole earth is mine, you will be for me a kingdom of priests and a holy nation. These are the words you are to speak to the Israelites."
In fact, sin is a reproach to any people.
"Righteousness exalts a nation,
but sin is a disgrace to any people" (Proverbs 14:34).
So What Should We Do?
We should obey!
We sing of the wondrous sacrifice Jesus made for us. Then we come home from church and have ham for dinner.
"Does the LORD delight in burnt offerings and sacrifices
as much as in obeying the voice of the LORD?
To obey is better than sacrifice,
and to heed is better than the fat of rams.
For rebellion is like the sin of divination,
and arrogance like the evil of idolatry" (1 Samuel 15:22-23).
Rather, we need to repent.
"As for the foreigner who does not belong to your people Israel but has come from a distant land because of your name— for men will hear of your great name and your mighty hand and your outstretched arm—when he comes and prays toward this temple, then hear from heaven, your dwelling place, and do whatever the foreigner asks of you, so that all the peoples of the earth may know your name and fear you, as do your own people Israel, and may know that this house I have built bears your Name…

"When they sin against you—for there is no one who does not sin—and you become angry with them and give them over to the enemy, who takes them captive to his own land, far away or near; and if they have a change of heart in the land where they are held captive, and repent and plead with you in the land of their conquerors and say, 'We have sinned, we have done wrong, we have acted wickedly'; and if they turn back to you with all their heart and soul in the land of their enemies who took them captive, and pray to you toward the land you gave their fathers, toward the city you have chosen and the temple I have built for your Name; then from heaven, your dwelling place, hear their prayer and their plea, and uphold their cause. And forgive your people, who have sinned against you; forgive all the offenses they have committed against you, and cause their conquerors to show them mercy" (1 Kings 8:41-43, 46-50).
To repent is to "turn back." It means to go through our freezers and throw out the pork chops. It means to go through our cupboards and throw away the cute boxes of pork gelatin and the expensive supplements wrapped in pork gelatin. We stop buying yogurt with pork in it, and we no longer eat candy or breads made from unclean additives. It's expensive, and it hurts. Our mouths water when we remember the smells of bacon, and we grumble.
"All day long I have held out my hands
to an obstinate people,
who walk in ways not good,
pursuing their own imaginations—
a people who continually provoke me
to my very face…
who eat the flesh of pigs,
and whose pots hold broth of unclean meat" (Isaiah 65:2-4).
Sadly, our world has forgotten that God has promised judgment.
"They have chosen their own ways,
and their souls delight in their abominations;
so I also will choose harsh treatment for them
and will bring upon them what they dread.
For when I called, no one answered,
when I spoke, no one listened.
They did evil in my sight
and chose what displeases me… (Isaiah 66:3-5).

"Those who consecrate and purify themselves to go into the gardens, following the one in the midst of those who eat the flesh of pigs and rats and other abominable things—they will meet their end together," declares the LORD" (Isaiah 66:17).

"Therefore come out from them
and be separate, says the LORD.
Touch no unclean thing,
and I will receive you." (2 Corinthians 6:17).

"Then I heard another voice from heaven say:
"Come out of [Babylon], my people,
so that you will not share in her sins,
so that you will not receive any of her plagues;
for her sins are piled up to heaven,
and God has remembered her crimes.
Give back to her as she has given;
pay her back double for what she has done.
Mix her a double portion from her own cup.
Give her as much torture and grief
as the glory and luxury she gave herself.
In her heart she boasts,
'I sit as queen; I am not a widow,
and I will never mourn.'
Therefore in one day her plagues will overtake her:
death, mourning and famine.
She will be consumed by fire,
for mighty is the LORD God who judges her" (Revelation 18:4-8).
A Warning to the Righteous
I know I'm usually a long-winded blogger, but this post is especially long. I hope I've shown you that no sin is a "little" sin, and that even a little bit of pork gelatin is detestable in God's eyes.
I know that these kinds of posts make people upset. But I'm hoping that some of my readers are righteous, with a sincere desire to walk in God's way. I'm hoping that they're just ignorant of what the Bible clearly says.
"At the end of seven days the word of the LORD came to me: 'Son of man, I have made you a watchman for the house of Israel; so hear the word I speak and give them warning from me…

"When a righteous man turns from his righteousness and does evil, and I put a stumbling block before him, he will die. Since you did not warn him, he will die for his sin. The righteous things he did will not be remembered, and I will hold you accountable for his blood. But if you do warn the righteous man not to sin and he does not sin, he will surely live because he took warning, and you will have saved yourself" (Ezekiel 3:16-17, 20-21).
God has really been impressing on my heart to warn the righteous people I know! His judgment is coming, yet the church has fallen asleep… lulled by grace… forgetting to be holy.
"See to it that you do not refuse him who speaks. If [the Israelites at Sinai] did not escape when they refused him who warned them on earth, how much less will we, if we turn away from him who warns us from heaven? At that time his voice shook the earth, but now he has promised, 'Once more I will shake not only the earth but also the heavens.' The words 'once more' indicate the removing of what can be shaken—that is, created things—so that what cannot be shaken may remain. Therefore, since we are receiving a kingdom that cannot be shaken, let us be thankful, and so worship God acceptably with reverence and awe, for our God is a consuming fire." (Hebrews 12:25-29).
So yes, dear friend, it is a sin to eat pork. Let's not play with fire!

P.S. What about Peter's vision of the sheet, and other places in the New Testament that seem to say God's Law doesn't apply to us any more? Read more.
—————————————
NOTE TO ALL: Posts like these get a lot of comments — and I welcome you to comment! 🙂 However, I'm not sure all my readers will be excited if I fill this blog with controversies about the Law. I'll discuss a wee, little bit… but for the rest of the discussion, I invite you to head over to a NEW blog of mine, Who Is Israel?, where you're welcome to get into it nice an' deep.
—————————————